Wednesday, February 29, 2012
Posted by

Cassie
at 2:08 PM
No comments:


Thursday, January 12, 2012
NPR
recorded all of the concerts at globalFEST and has them up on the webs
ite to stream. There are even still some on the page from last year. And that is why I love NPR.
Listen now!
Posted by

Cassie
at 10:07 AM
No comments:


Monday, January 9, 2012
I
have come to the conclusion that
globalFEST
is my favorite day of the year. It should be a holiday. It's better than a holiday.
In its ninth year, it is a one-night only celebration of all things world music. This year that meant everything from the virtuoso
Wang Li
giving what is surely the most stunning performance on the jaw harp (that's right) that you've ever seen, to the enormity of the 60 member
Silk Road Ensemble
exploring contemporary music on instruments from around the world. Each of the 12 sets is a completely singular experience, transporting audiences to a different point on the globe, and there are moments where everything else disappears except what's right before you. That is, until you remember that you only have 20 minutes left to catch the cross-cultural
Southern Italian
band upstairs.
Because this is my favorite holiday, I did make a point to see all 12 bands. This was easier than it may sound, as the overlapping schedule allows for, and even encourages, migration from one stage to another within the three spaces at Webster Hall.
That being said, the price of admission is well worth it even if you only catch one or two bands. But once the adrenaline and the rhythms and the horns start pumping through those halls, you might not be surprised if you find that you've spent five hours bouncing from one favorite to the next. And the next. And the next.
Here are a few of my favorites, briefly. Check them out for yourselves, and mark your calendars for early January next year so that globalFEST can round out your Holiday season with a bang. Probably on a bongo drum.
First:
M.A.K.U. Soundsystem
. Because they totally rocked my world.
This 8 person Colombian get-up packed the downstairs studio at Webster Hall with their irresistible dance beats. They had the crowd blissfully grooving to their percussive funk/ reggae sounds, passionately shouting "Sera!" in response to calls for political action and joyfully jumping up and down in unison. This was where the real dancing happened, folks, making this the hardest room to leave as everyone clearly hoped the set would never end.
Equally uplifting and groovable in its own way was the spirited music from Haitian band,
Belo
.
The music is full of heart and soul, as are the men behind the gentle rhythms. Belo ended the set with a chorus of repeated shouts "Do you want me to go?" To which, of course, the crowd yelled back "NO!"
Check out this
PBS story and video
on the band's story of hope.
Offering some solid competition to all the seductive caribbean percussion was the French band,
Zaz
.
I preemptively included a video of this lovely lady of song in a previous post below because I couldn't resist. She is testament to the deep appeal of french jazz and blues, playfully pulling at heartstrings and filling even the vastness of the Webster Hall ballroom with her lilting vocals and natural charm.
And then there was
Smod
.
I say that because these four men from Mali with their African hip-hop songs could charm the pants off anyone. Watching them run in place while singing and playing their instruments was definitely a hight point in the night.
The festival concluded with
Debo Band
, who have come from Boston via Ethiopia and are taking New York City by storm.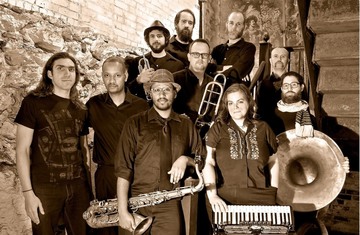 They crammed onto the small stage of the studio room in the basement and had every imaginable instrument represented. This was the party spot. The music was loud, with the energy of a big band jam, crossing electric rock lines with horns, saxophones and probably the most beautiful tuba I've ever seen. Seriously. I noticed it being carried around earlier and its old-world, weathered quality caught my eye even then. At a certain point, there was so much adrenaline and so many sounds coming off the stage that I wasn't sure anymore what was even going on.
But at that point, it didn't matter. I had music coursing through my veins and my body was exhausted from all the dancing. It was way better than Christmas.
Posted by

Cassie
at 6:24 PM
No comments:


(more to come...)
One of the 12 bands that ignited Webster Hall last night for the annual GlobalFEST world music celebration was this lovely little lady from France.
Watch this. You will fall in love with her.


Posted by

Cassie
at 8:51 AM
1 comment: